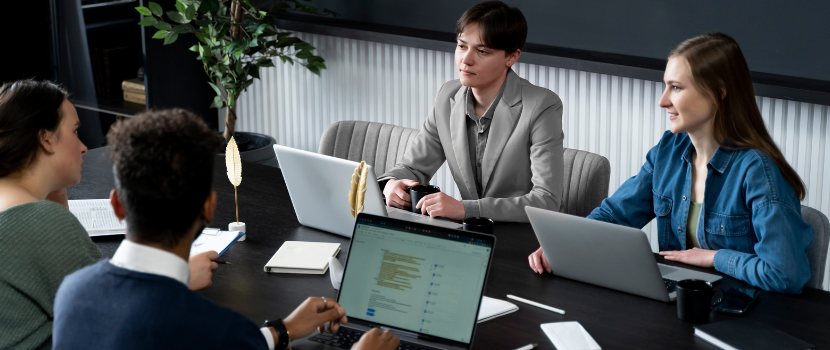 You may be considering collaborating with a recruiting agency if your company is looking for talented people. After all, finding and interacting with potential partners is undoubtedly difficult. Many businesses wind up spending a fortune on the hiring process just to receive disappointing results. Due to the numerous advantages a reputable recruitment agency can offer your business, partnering with one may be worthwhile. Here are a few advantages of doing this:
1. Market awareness
The recruitment agencies must stay abreast of the most recent changes and fashions in the fields in which they operate. Recruitment firms are renowned for having a wealth of information at their disposal in this way.
They may give you insights into the entire hiring process, give you advice on changes that can affect it, and make sure you're keeping up with business trends. They could also let you know if there are too many or too few workers on the field.
2. Recruitment Knowledge
Indian recruitment agencies also have a wealth of knowledge about the available talent in the sector. It may take a lot of time and resources to discover and interact with potential candidates because there is no one-size-fits-all recruitment technique.
A recruitment firm can provide you a significant head start on developing your tactics rather than starting from scratch. Recruitment agencies can contact employees and create long-term contracts using a variety of job boards. To assist them in finding decent jobs, recruits might also make their own inquiries to reputable firms. There is more work to be done when it comes to passive candidates. However, hiring companies can take great lengths to assemble the skill pool.
3. Employer Branding
Additionally advantageous is job consulting in Noida because it enables firms to develop their brands. Agencies are aware that, in addition to the overall operation of the company, employer branding is crucial when it comes to recruitment. In addition to effectively representing the companies, recruiting agencies make sure that potential employees can comprehend the company's culture and overall brand.
In this aspect, the hiring companies are essential in connecting the right applicant with the company. They are aware of both the requirements of the organisation and the requirements of the candidate. They can assist both parties by taking into account the requirements of the organisation and the candidate.
4. Less Risk
When businesses invest in recruiting, they often lose money and get little return on their investment. This typically occurs when businesses invest time and resources in communicating with job seekers who do not comprehend the organization's objectives. However, Indian staffing firms are aware of where to invest their funds.
They start by comprehending what the organization's objectives are. The business then compares the candidate profiles to the organization's goals. The individuals who are put forward in this manner are people who would wish to work for the organisation and witness its expansion. By doing this, the business will avoid having to continually spend money on employing new employees once the current ones quit. After all, if a candidate quits the organisation after being hired, you are back where you started.
5. Rapid Hire
Working with Indian recruiting services also enables you to quickly and successfully hire people and fill open positions. This is so that they can reach out to the pool of potential candidates that these agencies already have. In this method, they may find candidates quickly and get in touch with them.
Finding the ideal people for your position also requires a lot of interpersonal skills. However, hiring firms have the power to lengthen the time needed to fill such positions.
6. Excellent Candidates
A recruiting agency will make certain that you connect with top prospects and fill open jobs in your company with qualified individuals. Only the candidates who have undergone thorough evaluation and assessment might be the ones you encounter.
This is because the hiring companies perform a preliminary check to make sure that only qualified applicants are invited for an interview. They may also carry out the interview on the company's behalf.
The fact that recruitment firms have a wide range of professional networks is another reason why they are useful. They can connect with people from other industries, which enables them to discover a qualified candidate for the open position in your business.
7. Wider Range
Many IT job consultancies in Delhi are skilled at connecting with people and serving as a bridge between employers and employees.
8. Resources/Budget
Working with a recruitment firm also allows you to save a tonne of cash. Organisations must spend a lot of money on the recruitment phase since they must repeatedly fill open positions.
On the other hand, these organisations can assist you in selecting the ideal applicant with a high likelihood that they will remain with your business. By doing this, you can save a significant amount of money that would otherwise be wasted on recruiting and employing new employees.
9. Adaptability
Additionally, hiring companies are aware that no two businesses are the same. They are therefore highly adaptable when it comes to developing organisational strategies and hiring new employees.
You can set up your own terms and conditions with the company to make sure that their job satisfies your particular requirements.
Final remarks
We only touched on a few advantages of working with economical and effective recruitment services. To make sure you are working with the correct personnel, you should do enough market research before selecting a recruitment agency. This will enable you to create a successful recruitment plan that will help your business both now and in the future.